The foundation and tools to support business
The foundation of CloudWorkspace®  Suite automation is a tightly integrated toolset and API that orchestrates the activity of the hypervisor and of the Windows Operating System, Windows API and Windows Active Directory. The tools manage and coordinate all tasks required to manage virtual machines in a multi-tenant architecture. Easily assign machines to organizations, secure them in the infrastructure, and manage all Windows system administration and active directory tasks to "stand up" private CloudWorkspace® on multi-tenant hardware. This architecture allows Admins to skip most of the manual configuration steps required to establish remote Windows desktop or applications services for their customers.
CloudWorkspace® Suite Automation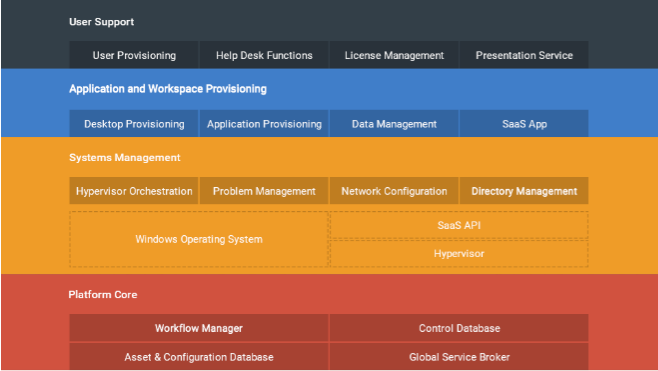 Simplify resource sharing with session-based
DaaS
solutions
CloudWorkspace® Suite also addresses troublesome resource sharing challenges that are common with alternative session-based DaaS solutions. Most session-based DaaS offerings lack the ability to dedicate server resources to individual users, resulting in conflicts that occur from "power users" who consume excessive RAM or CPU resources. This, in turn, impacts other users on the same server causing issues with workspace access. The Cloud Workspace Suite Universal Service Broker solves this problem using a patent-pending approach that delivers one-to-one server instances to these "power users" as needed. This eliminates conflicts without crossing the VDI/VDA licensing barrier and provides compliance with Microsoft's licensing policy.
Enjoy ease-of-use for access and management
Ease-of-use is a hallmark of CloudWorkspace® Suite, allowing users to enter a simple login through an RDS or Web client. The user is no longer required to know complex address gateway information, server resource names or other details to access applications and data. From a management perspective, IT administrators will find CloudWorkspace® Suite simple to use, with very little training required to become proficient. Administrators can manage the user or company profile and set policies from within the management panel to automatically update the appropriate virtual data center where the client is located. CloudWorkspace® Suite will then identify the proper servers and provide access where needed, significantly reducing the amount of time required for these actions.
CloudWorkspace® Suite consists of the following main modules:
Management  

Monitoring and control functions
Production

Access to desktops, applications, and data from virtually any device at any time, providing mobility and flexibility


Delivery
To remote users over any broadband network, including 3G & 4G mobile networks
Compliance and back-office ready with reporting and auditing features
Reference architecture
CloudWorkspace® Suite provides partners with the architecture, technology, and tools to deploy and manage complete workspaces in the cloud (Windows desktops, business, and productivity applications and back-office systems) using scalable cloud architecture.